This week I traveled to Millville to sit down with Paul and Jenifer Simmons of Glasstown Brewing Company to talk about the past, present, and future of the brewery. It's hard to believe, but Glasstown will be celebrating their 4 year anniversary this Saturday, January 27th from 12 pm-8 pm at the taproom. Glasstown was one of the first breweries in South Jersey and, until this week, the only brewery in Cumberland County.  Paul and Jenifer are great people who are widely recognized in the brewing community as mentors and have been generous in helping breweries that have opened in South Jersey.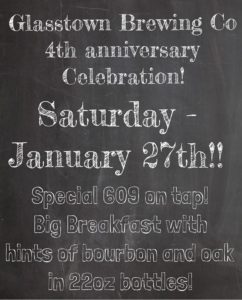 I started the conversation by asking Paul what made him want to brew his first beer. He explained that he had brewed a few times in college with some Mr. Beer kits, and had been drinking a lot of craft beer, but it wasn't until he passed by a homebrew shop, stopped in and looked at all the supplies that his and Jenifer's interest was really piqued. They didn't buy anything, but did go home and got on the computer to research some more and found Northern Brewer and More Beer and saw all the different kinds of beer you could make. That was the start of what would become one of the more respected breweries in our area.
In 2009 Paul and Jenifer moved to Millville from Cape May County where Paul was bartending in the summer. With his winter weekends open he couldn't think of anything better to do in the fall/winter but to brew beer and watch football. It wasn't long before they went all in on their passion and found a building to house their brewery at the Millville Airport. They opened in December of 2013, and started out brewing 12 gallons at a time on a Sabco system. That lasted about 3 months until they upgraded to a Handmade 1 ½ BBL system which they used for the next 3 months. Then one day while flipping through ads on Pro Brewer, Paul found a 3 BBL system for sale in Ohio. After an impromptu road trip, and some finagling of funds, the stars aligned and they were able to get the 3 BBL system much sooner than they had originally thought. They are still brewing on that system today, but have 6- 10BBL fermenters, and 8-7BBL fermenters (and the original 2- 3BBL kept for experimental batches). They are hoping to add 2 more 7BBL fermenters which will hopefully allow them to be open 7 days a week in the summer.
Along with the expansion of the brewhouse came the expansion of employees. Paul was full-time from the beginning which really helped speed things up (rather than getting there when he could) and Jennifer working part-time while still working her job until November of 2016 when she was able to work full-time to fulfill their dream of being a full-time business. Soon after they realized that they needed more help.  They started hiring a month and a half into it, and it hasn't stopped. To date, they have 4 full-time and 2 part-time employees and may have to add another part-timer in the spring. In addition Jenifer's Brother Mike works there and also does the artwork for the brewery as well.
When asked how the landscape of breweries have changed since they opened Paul said, "it would probably be the number of breweries that have opened. We applied the same time as Village Idiot and our ABC Brewers License numbers are 13 and 14, and we are in the 80's now with more on the way". Paul continued, "there is also a lot of great beer being made, and New Jersey is starting to get the recognition they deserve".
Now on to the big anniversary event on Saturday. They will be releasing 2 beers for their 4th anniversary. First up is their Big Breakfast Coffee Maple Porter brewed with bourbon soaked oak chips to give it some barrel aged characteristics, and topping out higher than the original 7.2% ABV. There will be 600 22oz bomber bottles available, so when it's gone, it's gone. They are also doing a variation of their 609 IPA on draft only. They just surpassed their 100th batch of this fan favorite so they did a little change with the hop profile by adding some Galaxy hops for a little zing, and it will also look more like an NE style IPA. I really enjoyed sitting down with Paul and Jenifer, and wish them 50 more anniversaries. I also did our 10 questions with the brewer that will be coming out soon. Do yourself a favor, and come celebrate with the whole crew, and drink some of their delicious beers. You can bet I'll be there. As always…….
Enjoy Your Pour!