In this edition of Hikes and Hops we will be going to Batsto Village. Most of the locals have heard of The Botana Trail which is a 51.3-mile trail that meanders through the pine barrens, and runs by Batsto Village. You can access it from the main parking lot which provides many trail options. From the back of the parking lot is the .8-mile Red trail, the 1.8-mile blue trail, and the 4-mile white trail that all loop back to the village. The Botana Trail is part of the White trail which you can continue on all the way to Wharton State Forest. For years we would hike the White trail which would take about 90 minutes at a good pace.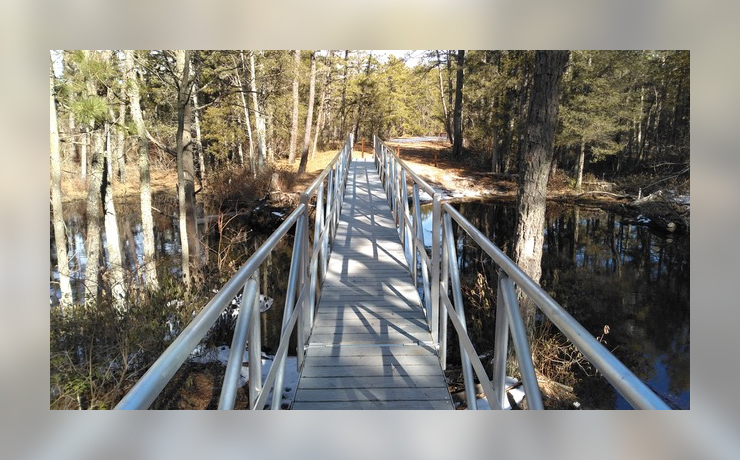 Tom's Pond Trail
More recently though we have been hiking on the Tom's Pond trail, and no it's not named after me although I wish it was since it is an awesome hiking experience. You can access Tom's Pond Trail 2 ways. You can park in the visitors parking lot and walk through the village or you can go past the entrance heading west on Rt.542 until you get to the end of the split rail fence. There is enough parking in the dirt area for about 20-30 cars, so on a nice weather day you should try to get there by mid-morning. From the parking area you will follow the dirt road for a couple hundred feet until you come to the map board on the right. From there you will turn left at the map board onto Tom's Pond Trail. You will follow the orange and yellow trail markers for a little while then veer off onto the yellow marker trail. Early into the hike you will come across a wooden foot bridge that crosses over the Mullica River, and continue on through the woods, and along the Mullica River. A little over the 1 mile into the hike you will come across a second foot bridge which is a little longer, and made of aluminum that brings you back across the Mullica, and which seems out of place in the middle of the Pine Barrens.
At about the one-half mile mark you will come to an intersection. At this point you will take a right and go over a small vehicle bridge, and continue right on the dirt road. If you were to continue straight you would eventually end up at Atison Furnace located on Rt. 206 about 8 miles from the intersection. As you head back towards the parking area you will stay left at the fork which will bring you past the canoe launch on Batsto Lake. At a normal pace with a couple stops to take in the beauty you are looking at about 90 minutes for the loop.
Nearby Breweries and Food Options
Now comes the reward. You have a couple options when leaving the parking area. If you make a left and head east on Rt. 542 you have about a 20-minute ride to one of our favorites Pinelands Brewing. The Pitch Pine Ale was the first beer I had on their opening day 7 years ago, and it was love at first taste. They have a nice taproom, and when the weather is permitting, they have an awesome outside area. Sometimes I think the main reason we like to go up to Batsto is so we can go to Pinelands after, and they are dog friendly as well. If you are looking for a place to eat, I would suggest Doyle's Pour House in Tuckerton. They recently changed ownership, and still have great food, and a great tap list.
If you are to make left out of the parking area, and head west on Rt. 542 you will have a 20-minute ride to reach Hammonton where you will find 3 great breweries, and a lot of great food options. Vinyl Brewing, Three 3's, and the newest on Chimney Rustic Ales all have great options for the beer coinsure. Besides breweries you will find the newest addition ton adult beverage scene Blue Rascal Distillery. As I mentioned you have a lot of great food options as well. Right across the street from Vinyl Brewing is Bruni's Pizza which is one of the best in South Jersey. Also located on Main street is Bagliani's who make some of the best Italian specialties in the area. Some other great food options are Rocco's Town House which have a great food menu as well as a nice tap list with local, and national favorites. If Mexican is what you're in the mood for look no further than Nuevo El Mariachi Loco. They really do a great job making authentic Mexican cuisine. That about does it for this edition of Hikes & Hops. As the weather gets warmer and the Covid restrictions ease we will be bringing you some longer hikes, as well as hikes and rewards in the Tri-State area.