This past week we had the pleasure of visiting Mudhen Brewing Co. in Wildwood, Cape May County, the latest venture of Brendan and Robin Sciarra who also own the Dogtooth Bar & Grill just around the corner. The name Mudhen takes its name from the nickname given to the first passenger train in Wildwood which started running in 1883. The train would have to take a bridge through the marshlands from Cape May Court House and was often washed out during high tide, thus the legend of the MudHen was born! We arrived shortly after they opened and the place was already buzzing with activity.  As we walked up we were impressed with the transformation from what was once Harley Davidson of Wildwood to this impressive new brewpub.  The outside of the building is emblazoned with a giant Mudhen sign that fits the Doo Wop atmosphere of Wildwood perfectly.  The brewhouse itself is able to be seen from the street through glass garage doors which will allow you to watch Head Brewer Tony Cunha doing his craft.
We met with Marketing Director and Resident Artist Russ Simmons for our tour of the Brew House and restaurant area. Russ is also responsible for the impressive artwork for the labels on the crowler cans, and the original paintings can be found hanging upstairs in the 2nd-floor loft hallway. As soon as you walk through the door you realize a lot of thought and craftsmanship has gone into this establishment and as Russ walked us through the building he pointed out many details that were carefully selected to add to the overall theme of the brewery. From the reclaimed bricks and doors brought in from Philadelphia to the wall leading up to the 2nd-floor loft that is adorned with Oak Barrel Staves which give the wall a 3D effect, there is a stunning attention to detail and style that is truly remarkable.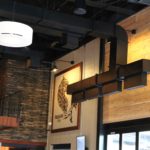 The main room is large and has an industrial feel with high ceilings and rows of tables that remind me of a German Style Brewhaus, communal but far enough apart that you are not on top of each other. Although the high ceilings and big space may remind you of a lot of breweries you have visited, it's clever use of large round lighting fixtures covered in fabric and a large wall hanging of a Mudhen that help deaden the sound and allow you to have a conversation is a welcome sight. The bar lines the entire West end of the brewery, just below the reclaimed brick wall with the initials MH smack in the middle.
The Wildwood Bar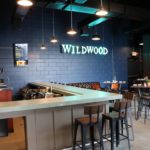 Just off the main floor is another area called "The Wildwood Bar" that has high tables along with another bar. The main wall of the room has the "Wildwood" sign that was in the Harley Shop. The room also has a glass garage door that can be opened in nice weather. Right outside the garage door is a great outside area with picnic tables, a fire pit, and corn hole. Back inside, there is a stairway that leads to the aforementioned loft area. Once you are up on the 2nd floor you have a great view of almost the entire restaurant. In addition to the extra seating for dining, there is a nice lounge area that is decorated in a very eclectic style. There is a nice half moon bar as well as restrooms.
A Brewery and a Restaurant
The other thing that is different than other breweries in our area is they are also a restaurant with great food. This also means they are not allowed to distribute outside of the brewery, but they can fill growlers, and crowlers to take home. When Brendan was ready to develop the beer for Mudhen, he hired renowned consultant Scott Morrison. Scott is one of the most sought-after consultants in the business and has a closet full of medals from The Great American Beer Festival and The World Beer Festival. As for the beer, the evening we visited they were offering 6 different beers with a wide range of styles. From the Mud Light Pilsner to the Baker's DIPA, Brewmaster Tony Cunha has made something that will fit everyone's palette.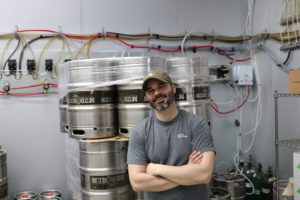 With a degree in Hospitality Management from UCF, Tony definitely knows how to make people happy. After stops in Vegas, Orlando, and Baltimore as a restaurant manager, Tony realized he wanted to turn his love of home brewing into a career. In 2013 Tony began to follow that passion and started at Rock Bottom Brewing in King Of Prussia. His next gig was at Sterling Pig Brewery in Media, Pa, with Multiple GABF Medal winning brewer Brian McConnell, who Tony had worked with at Rock Bottom. It was at Sterling Pig when he heard that Brendan was planning on opening a brewery in Wildwood. Tony, who has his roots at the shore and is a graduate of Lower Cape May Regional High School, immediately knew he had to be the brewer, and the rest is history. We spoke with Tony at length in the brewhouse and it is clear that they couldn't have made a better choice to brew! I'm really excited to sit down with Tony after Labor Day when he can catch his breath, and do our "10 Questions With The Brewer" feature.
After we spoke with Tony and Russ, we decided to stay and sample some beers and have dinner. The food was more than typical bar fare with a wide range of interesting cuisine. There is a heavy barbecue presence, but I have no doubt that there is something on the menu for everyone!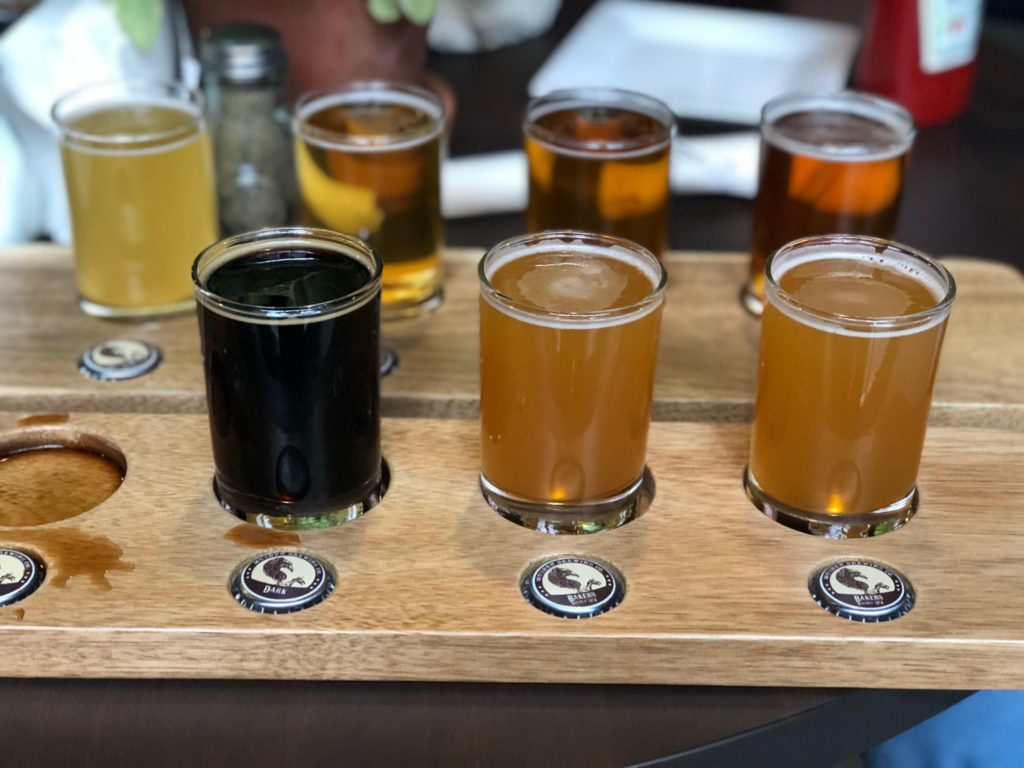 Needless to say, we were suitably impressed with Mudhen and had a great time! Being one of the few brewpubs in the southern part of the state, we suspect that this will be one of the go-to places for those who visit South Jersey this year!
Thanks to Tony, Russ, and the staff for being such great hosts and we look forward to seeing everyone again soon!
And, as always, Enjoy Your Pour!
Mudhen Brewing Co.
27 West Rio Grande Ave, Wildwood, NJ
For more information, visit Mudhen Brewing Co. on the Web at www.mudhenbrew.com
Follow Mudhen Brewing Company on Social Media @mudhenbrew