When the camper gets hooked up it is vacation time, and my favorite thing to do on vacation is to visit other breweries. The trip to Virginia Beach is one of my favorites. I have made this trip many times with my wife and our dogs and it never disappoints. We always stay at First Landing State Park and, I have to say, Virginia State Parks are outstanding. I love this particular state park for 2 reasons. First, the campsites are a walk over the dunes to the Chesapeake Bay and, second, its close proximity to breweries! Within 12 miles of our campsite, there are at least 7 breweries including Back Bay Brewing, Pleasure House Brewing, Reaver Beach Brewing, Young Veterans Brewing, Green Flash Brewing, Smart Mouth Brewing, and my personal favorite Commonwealth Brewing Company!
The last 3 times I have been to Virginia Beach I have ended up at Commonwealth. They have excellent beers and the all-around vibe of the brewery is terrific. The brewery is located in an old firehouse in the Chic's (or Chick's) Beach section of Virginia Beach. The tasting room is located in what was the garage section of the old firehouse and houses a 30' bar with 28 taps. The room has communal tables with a beer rail along the wall. There is a great view of the brewery on the back wall. The garage doors are glass and allow you to get a look at the outside patio which, when it is nice out, are left open. Tucked in the back of the brewery is the brewhouse and a barrel aging room. The barrel aging room is also used for private events for up to 70 people.
Now let's move on to the beer! Let me start by saying I am already looking forward to our next trip back! Commonwealth has many standout beers which, I believe, has to do with the brewery's mantra described on their site by owner Jeramy Biggie as "a tight-knit band of like-minded people who believe beer should be adventurous, diverse, extremely drinkable, and defy boundaries". They nailed it! We sampled a flight on this trip which consisted of 6 beers, 5 oz. each served on a holder made from a barrel. They did not disappoint.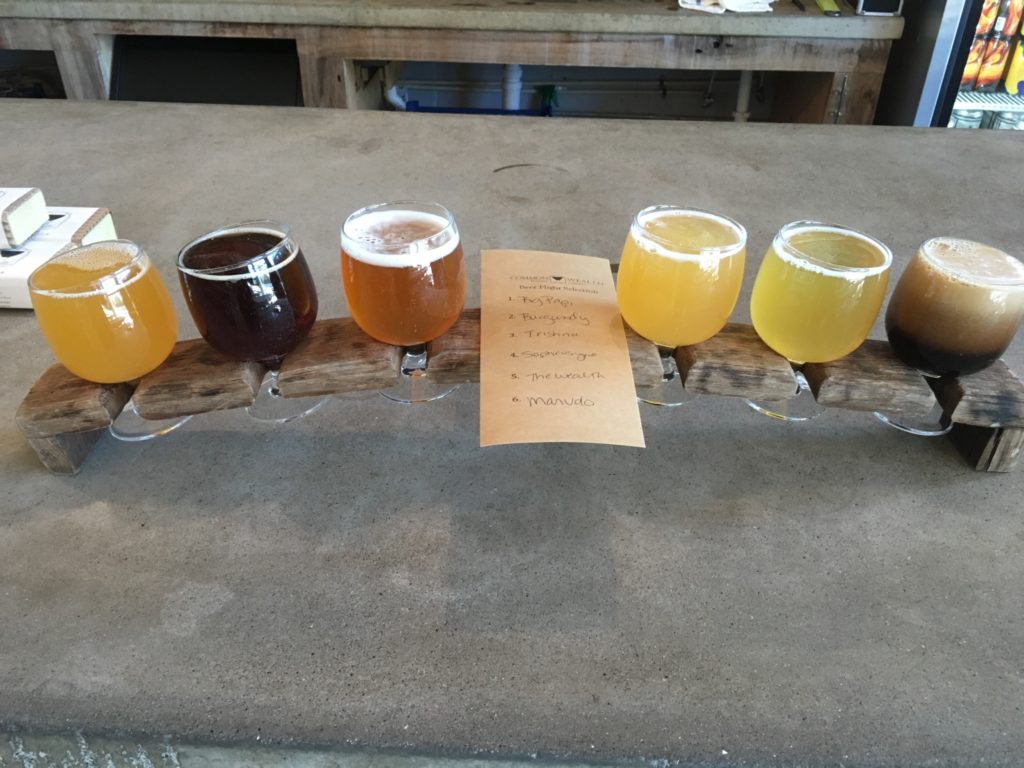 The first beer we sampled was Big Papi, a Double IPA checking in at 8% ABV. It is the big brother of their IPA, Paps Chulo. It is a hazy, fruit forward beer with low bitterness. It was my favorite of the flight rating an A+.
Next up was Marvolo, an Imperial Chocolate Stout checking in at 8.5% ABV made with cold brewed coffee, toasted coconut, and Dutch cocoa. All of these flavors blend together creating a bold and dark beer that is so easily drinkable it could be dangerous! It is by far my wife's favorite and was a close second for me. I would rate this an A.
The third beer was The Wealth, a blond saison at 5.1% ABV, with notes of fruit, spices, and bread. Another excellent, highly drinkable beer that I would rate a B+.
We then sampled Burgundy, a Belgian Dubbel checking in at 8.4% ABV. This beer is made with 3 different types of Belgian candi syrup and open fermented, with notes of ripe fruit and rich malt. This beer reminded me of our Fete Du Roi, a beer we brew at Tuckahoe Brewing Company. I graded this as an A.
Our next sample was Sophrosyne, an aged saison that checked in at 5.8%. It is a 100% folder fermented beer aged 6 months, then blended with their house Solera. I would describe it as tart, light, and funky, exactly how a sour should be. I rated this a solid B.
The final beer of our flight was Trishna, a Gose with hints of blood orange, lemon, lime and Buddha's Hand, a Chinese fruit. It has a strong forward flavor that dissipates over time. The beer was an excellent finish for me and rated and A.
I really feel the Commonwealth Vibe runs through all the selections we had, and I am sure if you were to visit you would feel the same way!
If you get a chance to Virginia Beach, take it! It is a beer lover's paradise with excellent breweries, terrific restaurants, and beautiful beaches. It is also in close to Norfolk which is also home to some awesome breweries, but I will save that for the next Road Trip article! Sitting here writing this has me longing to head back!
Cheers!
Rob Callaghan, Sales Manager, Tuckahoe Brewing Company
—
For more information on Tuckahoe Brewing Company, visit them at www.tuckahoebrewing.com