Long Beach Island is one of the most beautiful spots on the Jersey Shore. From the iconic Old Barney lighthouse and modern beachfront mansions on the north end to old Victorian homes on the south end, not to mention the gorgeous beaches, great restaurants, and shopping, there is truly something for everyone. And since 2016 you can add craft beer lovers to that list as Ship Bottom Brewery of Ocean County celebrates its second anniversary this August.
I had the opportunity to talk with owner/founder, Rob Zarko at the Beach Haven brewery to discuss the genesis of Ship Bottom, beers, brewing and business.
Pennsylvania Beer Lover
Our journey takes us back in time to 1995 when Rob was a young Pennsylvania beer lover spending time at a summer house in the Ship Bottom section of LBI (hence Ship Bottom Brewery) with a Cooper's DIY kit of Australian Pale Ale.
As with all home brewer's, the moment of truth…was the beer good, was it bad, was it undrinkable? The wrong answer can make you quit (sort of like golf), but thankfully in Rob's case, it was good, he was hooked and the brewery seeds were planted.
Rob decided to start building his own brewhouse back home in his garage. He started small and gradually increased his brewing knowledge and experience as well as his system. Doing much of the work on his own he eventually built a 1 barrel system and a walk-in cooler in his garage. You can't drink that much beer on your own (well maybe some of you can), so he partnered with some local bars and restaurants to supply them with some kegs of his brew.
"We don't want him getting so big and becoming Budweiser"
After several years of this, Rob took the plunge, applied for his license and presented his plan at a public hearing. Many locals were supportive but he did encounter several objections, including a neighbor who was worried about a brewery opening in the quiet neighborhood. "We don't want him getting so big and becoming Budweiser". They also worried that the nano-brewery would explode, but Rob was able to counter the complaints by assuring his neighbors that he had been brewing on his back porch for 10 years (One gentleman admitted he had enjoyed several of his beers locally). He was approved and in 2012, in Delaware County, Pennsylvania, Ship Bottom Brewery was born! (In his garage…this isn't New Jersey, folks!)
Rob's business plan included expansion, so in the fall of 2015, he began talking to investors about building a brew house on LBI and things moved quickly after that (unusual for a NJ brewery). He found a location in the popular Bay Village shopping/dining area of Beach Haven (several miles south of his first brewing experience in Ship Bottom). In order to execute the plan he knew he needed some help with the brewing side. Enter Jake Stablein, who crossed paths with Rob at Twin Lakes in Delaware, but was originally from Colorado, where beer is a way of life (#4 state in breweries per capita…NJ is 45th). Rob enlisted Jake to help bring life to his recipes.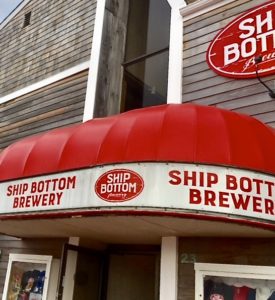 Doing much of the work themselves and dealing with the challenges of a second-floor brewery, Ship Bottom Brewery opened in August of 2016, with Jake on board as the Head Brewer.
The unique Beach vibe is reflected in the beer lineup, as Stupid Paddle Boat IPA, Beach Patrol Hefeweizen and The Shack IPA are year-round offerings. Special offerings include Mexican Cerveza, brewed with salt harvested from the Barnegat Bay that is visible from the tasting room bar, and Chicken or the Egg IPA, named for a state if not world-renowned LBI restaurant and brewed with their hot wing sauce.
Advice for Brewery Hopefuls
I asked Rob if he had any advice for those who may want to open a brewery. "Have a solid business plan. Know your strengths and weaknesses. Find people that can do the things you aren't good at. I hired a professional brewer so I could concentrate on the business. It's a highly competitive market so make sure your beer, branding, marketing, sales strategy are thought out and designed well. Hire good people, they are the face and voice of your company "
Rob's plan included an aggressive distribution plan and Ship Bottom in cans can be found in Pennsylvania and New Jersey. He does some canning in the Ship Bottom facility but a lot of it is done at a partner brewery, Sly Fox, in Pennsylvania.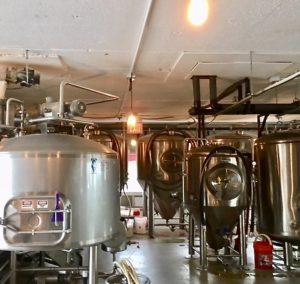 I asked Rob what are his go-to beers, aside from his own. "I like 2SP Russian Stout (Aston, PA), as well as the Yeti Stouts (Great Divide, Denver CO)"
Rob's favorite Ship Bottom beer is the Mexican Stout which is brewed with Ancho Peppers, Mexican Coffee Mexican Chocolates, Cinnamon and vanilla beans, but he is passionate about all of them.
"Our motto is "Brew every beer very well", said Rob. "I could have a lot more on our tap list, but I want every beer we offer is of the highest quality."
That is probably the most important aspect of any business plan, as in the end, it is all about the beer. Unlike many of the businesses on LBI, Ship Bottom Brewery is open year round, so definitely an island brewery for all seasons!