I recently sat down Guy Corrado, owner of Eastern Homebrew located on Tilton Road in Northfield, to talk about the Homebrew Supply business, and his upcoming 2nd annual Homebrew Competition at the South Jersey Craft Beer, Food, and Music Festival being held at ACCC on Saturday, June 2nd. Guy opened his doors in July of 2015 and has been supplying a great many of the homebrewers in the South Jersey area ever since. Guy worked in corporate sales for 33 years and would homebrew as a hobby.  He found homebrewing to be very therapeutic and learned his craft over many years. He also worked part-time for Shawn Grigus at Tap It Homebrew Supply in Egg Harbor City. When Shawn closed to open up Tomfoolery Brewing with Gayle D'Abate in Hammonton, Guy saw a need in the area and put his plan into place to open Eastern Homebrew.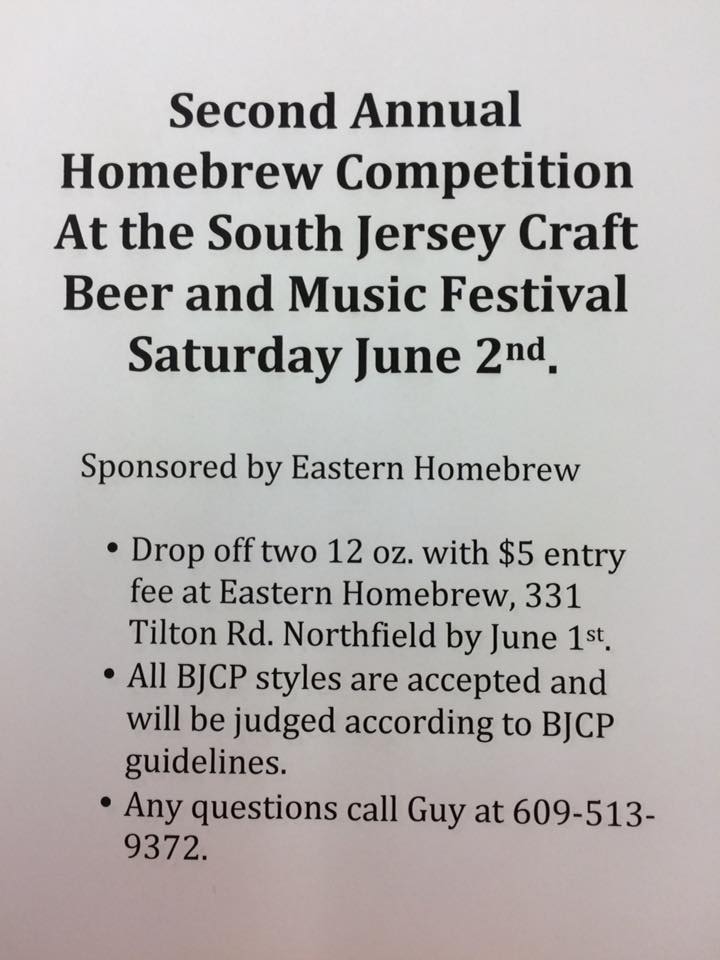 Guy initially started making wine after a visit to his sister out west and she introduced him to the hobby. He found that the homemade wine didn't give him an allergic reaction like commercial wine did. When he decided to expand into brewing beer he dove right into brewing a Triple Belgium from an extract kit, and another brewer was born. From the beginning, Guy didn't have a favorite style, he likes to brew them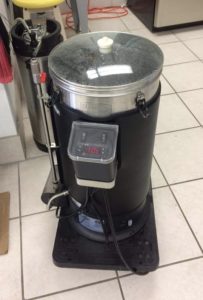 all. He really enjoys the seasonal brews, as do most of us. I think seasonal brews give us all something to look forward to all year long. When I visited, Guy had just finished brewing a Kölsch which should be ready right when the weather gets warm. He also enjoys brewing German Alt's, Anchor Steams, and California Commons which are a 100%  American Lager. These are not your normal choices for home brewers, but Guy loves a challenge. He does most of his brewing in The Grainfather which is a nice self-contained system that he sells at the store. I tried a few samples that he brewed in it, and I must say it does a really nice job. Guy is kind of The Godfather of The Grainfather.

As I was sitting in the shop, I noticed he had a beaker of yeast swirling away being conditioned for an Apricot Sour Berliner Weiss. With a background in chemistry, I quickly realized Guy has a wealth of knowledge and really cares about helping people make better beer. "You don't get into the homebrew supply business to make a lot of money," Guy told me, "You do it for the joy of it all."  Like most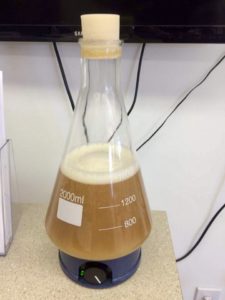 breweries, it has taken him about 2 years to break even and to start making a living. Most of his business is repeat customers, but he does see some new faces come through the door which is nice to see the craft is still expanding.
Guy has tons of stories of helping brewers reach their dream. One day, not long after Guy opened, There were a couple of guys who stopped in and said they wanted to learn how to brew with the goal being to fulfill their dream of opening up a brewery. Guy started to show them some extract kits, and they said, "No no! We want to do all grain, and we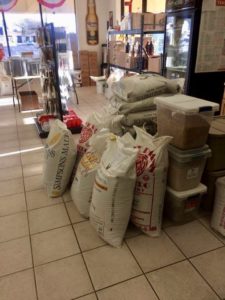 want the best equipment you have". Guy questioned, "are you sure?" They replied "You don't understand. We run into burning buildings when people are running out!" Those two gentlemen were Kurt & Karl Hughes who are now the owners of Bucket Brigade Brewery in Cape May Court House, N.J. Another pair of Guy's steady customers are Jason Filoon and Tim Smith who are in the process of opening up Devil's Alibi Brewing.  Jason and Tim have been creating quite a buzz in the Homebrew competition circuit the past few years. We wish them the best of luck making their dream come true so more people can enjoy their beer. I'm sure they may have an entry or two in Guy's Homebrew competition which is taking place on June 2nd! I'm sure there many stories like this, and we thank Guy for being a great steward of this craft.  I truly enjoyed my visit with Guy at Eastern Homebrew, and can't wait to see him at The South Jersey Craft Beer, Food, And Music Festival being sponsored by The Joe & Rachel Show on Cat Country 107.3.  Make sure you stop by and see us at our booth at the event!  We will be selling some of our  T-Shirts and will have a few special surprises for you!  Hope to see you there!
And, As Always, Enjoy Your Pour!
For more information on Eastern Homebrew, visit them on the web at www.easternhomebrew.com
Visit Eastern Homebrew on Facebook @easternhomebrew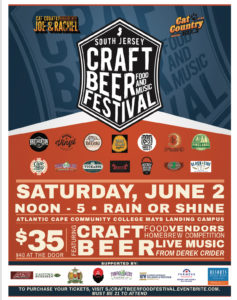 For Tickets and Information on the Joe & Rachel Cat Country 107.3 SJ Beer, Food, and Music Festival follow the link HERE