In this edition of 10 Questions, I traveled a short distance from my house to Tuckahoe Brewing Company in Egg Harbor Township, Atlantic County. Established in 2011, it's one of the oldest breweries in South Jersey. I talked with Tuckahoe's Head Brewer, Tim Caron, who joined Tuckahoe Brewing in January of 2016 after spending 3 years with 3 Stars Brewing company in Washington D.C. where he was an assistant brewer. He also worked on 3 Stars' barrel aging projects.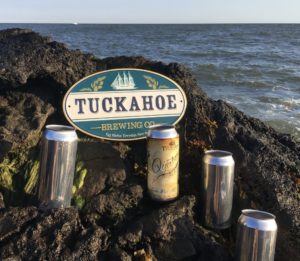 Since coming to Tuckahoe, some of Tim's creations have been a Kölsch,"The Beauty of Tarth", "Snack" an aroma filled highly drinkable session IPA, "Grounded" Rye Pale Ale, and "Rabbit Hole" a Farmhouse Ale made with ingredients from Rabbit Hill Farm. Like all of the brewers I've met with, Tim was a wealth of knowledge and I could talk to him for hours.
It was a great time to sit down with Tim. It was just announced that Tuckahoe will be having their first ever can release on Friday 8/4/2017, the fantastic Quatrain IPA.
What was the first beer you brewed and how was it?
Tim Caron: It was an off the shelf extract partial boil Pale Ale. It was darker than I wanted it to be and maltier, but I drank it. It came out ok and I gave a fair amount of it to my friends. Nobody does an all grain Barleywine for their first beer.
What is your favorite style to brew and why?
TC: It wouldn't necessarily be a particular style, but just something drinkable. When I want to drink I want a beer that I can have 3-4 of with friends and family and have a little conversation. So, to answer your question, I would say a Kölsch, Pale Ale, or a nice Pilsner. Something you can have a few of with your meal.
Do you look at ratings on Untapped, Beer Advocate, or Rate Beer and, if you do, does it influence your recipes?
TC: All of those platforms are both a blessing and a curse. You get immediate feedback from whoever wants to give it. You have to dig a little deeper into the person's response. If they score the same style from other breweries low or high across the board, I'm not going to sweat that score. We certainly know what people are saying about us on there, but I wouldn't say it influences our recipes. Our recipes are our recipes, and you have to have conviction and be committed to high quality and consistency.
How do you stay connected to the local area in relation to sourcing ingredients?
TC: We work with Rabbit Hill Farm in Shiloh, NJ for a couple collaborations with their malt. We've also done a collaboration with Screaming Hill Farm Brewery in Cream Ridge, NJ. We are in communication with 2-3 local hop farmers whose crops are about to be ready. We use some of our locally harvested yeast a couple times that we cultured up from blueberry skins. We also have a great relationship with a cattle and pig farmer that picks up all our spent grains. So, anytime we want local fruit or honey, he's usually our first call since he has relationships with farmers that can get us that stuff.
What is the one tip you would give home brewers to make better beer?
TC: GET NERDY! It's all about yeast management and basic water chemistry. You must pitch the right amount of yeast and make sure it's healthy and fresh. Make sure your water's not too hard and basic carbon filtration. Sanitation, sanitation, sanitation. Make sure everything is really clean and really sanitized. It's not just hanging out around a boiling kettle and drinking beers.
What is one piece of advice you would give someone who wants to open a brewery?
TC: Its an industry that needs a lot of capital. You need to do your research on how much it's going to cost you, and how much you're going to see in return. A main piece of advice is to be prepared to lose money or break even in the first few years. If you can get through that, and you're still on board and love what you're doing, then you made the right decision. There will always be troubles and issues, but you just work through them. If you love it, you'll make it work. One bit of advice is to buy as many good hops as you can and as much as you can. If you can't use it all yourself, you're going to make friends with other breweries who would love to trade.
If there was a beer that you could brew with no regards to cost, production, or sales, what would it be and why?
TC: Pilsner. I think a really clean, crisp Pilsner is the ultimate expression of a brewer's ability. There's nothing in the way. It's soft water, its one maybe two hops. The fact that pilsners are kind of muddied by the yellow fizzy stuff that people drink in mass quantities is unfortunate.
Looking back to opening day forward, what was the one thing that happened that surprised you the most?
TC: Although I wasn't here opening day, the biggest surprise on my first day is an emergency came up and my brewing partner had to leave, and I got put in charge of the brew house. Happy to say the emergency and the boil both turned out good.
Other than your beer, what is your go to after a long day at the brewery?
TC: Founders All Day IPA. There's always at least a 15 pack of that in my fridge. That's my morning cap, afternoon cap, or evening cap depending on when the brew day is done.
Where do you see the brewery in a year? In 5 years?
TC: 1 year- Just keep crushing it with a few more tanks. Hopefully pushing a lot of cans out. Quatrain to start with, and a few more to follow. We want to be the beer that people are putting in their cooler when they're going to the beach, picnics, canoeing, tubing, etc. 5 years- My goal is to be state wide, and big in Philly. But hopefully sooner. Also, to keep driving to be more creative with the offbeat stuff that we do, keep the tasting room as a destination, more can production, and just keep evolving with what people like to drink.
—
For more information on Tuckahoe Brewing Company visit http://www.tuckahoebrewing.com